Forum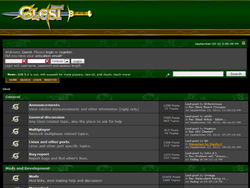 The forums are the hub of Glest activity, containing over 60,000 posts in over 4,000 topics, and thousands of registered users, plus more every day. It boasts the most up-to-date threads for Mod downloads, as well as is the official discussion place for Glest.
Link: Glest Forums
History
[
edit
]
Created around the same time as the Glest webpage, the Glest forums, better known as the Glest Board is the meeting place for all glest information. Virtually all mods, maps, tilesets, Glest branches, etc are announced primarily on the Glest Board. Starting as a PHPBB Board under a custom theme designed by José Zanni, it was later converted to a generic SMF board due to troubles with the PHPBB version. The current Glest theme was created by Omega in early 2010. On 2 July 2011, the board was updated with SMF 2.0 and a new theme, which is currently version 3.2.
Statistics
[
edit
]
After the update to SMF 2.0, many bot accounts were wiped and more secure methods made it easier to find accurate statistics:
Total Members: 2,629
Total Posts: 66,483
Total Topics: 4,671
Public Opinion
[
edit
]
The Glest Boards are renown as the best place to ask any Glest related question, as well as the best place to post your own contributions or see others contributions (such as mods, maps, etc). It is well liked by its members, and is well moderated to prevent excessive spam. The boards are split into categories to further help the users, such as the Mods category for mods or the Off Topic category for general, non-glest related chat.
See Also
[
edit
]