Glest guide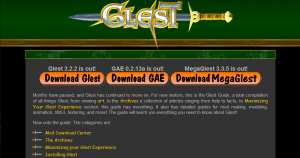 The Glest Guide is a fansite project that is dedicated to creating a full guide to Glest, in a matter similar to how the wiki does. It is the only currently active fansite at that, and its most commonly visited pages include its mod download center, a large archive of mods available to download.
Location: http://glestguide.co.cc/
History
[
edit
]
Originally starting off as a handful of XML templates in the RTF format, the Glest Guide expanded to a few HTML files distributed in a ZIP file. It would later get its first version online on a 110MB host, where it would stay for several years. However, at some point in 2010, the host declined service to the Glest Guide, causing it to convert to a its current location on a different host and a .co.cc domain.
Features
[
edit
]
Mod Download Center (MDC) which is able to download and allow rating of mods.
Archives, the section which allows the creation of Glest related editorials
Full tutorials on modding, modeling, XMLs, etc
Interactive XML and Lua pages
Scenario creation wizard
Hosts pages to some mods, such as Military or the Elves.
Detailed documentation of Glest and all Glest related subjects
Fan art gallery
Public Opinion
[
edit
]
The Glest Guide is often strongly favored in public, as several members of the Glest community have admitted the Glest Guide is very helpful for beginning modding.[1] The site is not well known outside of the Glest community, and as a result, most of its visitors are from the Glest Board, the main source of Glest's modders.
Phasing out
[
edit
]
Around early 2011, the Glest Guide's creator decided to slowly start phasing out the Glest Guide. The content will slowly be redone on the Glest Wiki, and the guide is not totally dead until then, but will be obsolete eventually in the future.
See Also
[
edit
]
External Links
[
edit
]
References
[
edit
]